Yamaha MG12/4 12 Channel Analog Desk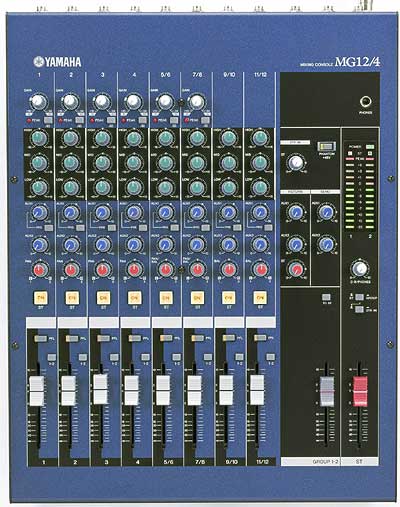 12 input channels 
The Yamaha MG12/4 12-Input 4 Bus Mixer gives you 4 mono microphone/line inputs and four stereo line inputs, 2 of which offer mono microphone input capability, for a total of 6 XLR mic inputs.
Six low-noise, high-precision mic preamps
Six high-performance head amplifiers that will bring out the best in any dynamic or condenser microphone.
Phantom power
All six of the MG12/4's high-performance mic preamps feature switchable phantom power for studio condenser microphones. A single switch turns phantom power on or off for all six channels.
Insert I/O
All mono input channels feature insert I/O patch points so you can add extra signal processing to the channels as required.
4 buses (stereo and group)
In addition to the main stereo bus, the MG12/4 features a stereo group bus and outputs that can be used for convenient channel grouping.
3-band Channel EQ and HPF
Smooth, musical-response 3-band equalizers on all input channels. All mono microphone input channels also feature a switchable high-pass filter that can be used to cut out unwanted low-frequency noise.
Two aux sends and stereo aux return
Two auxiliary sends on each channel"one post-fader and one switchable for pre- or post-fader operation"provide plenty of flexibility for external signal processing and monitoring. A stereo auxiliary return is also provided.
Illuminated switches
Illuminated ON (ST buss assign), PFL (pre-fader listen), and phantom-power switches provide easy visual confirmation of critical console settings.
Rackmount adapters included
Use your MG mixer on a desktop or mounted in a rack–rackmount adapters are provided.