Virtual Events
Take your event online and reach a global audience
The Studio – Twickenham
A Virtual Event studio at the home of Rugby.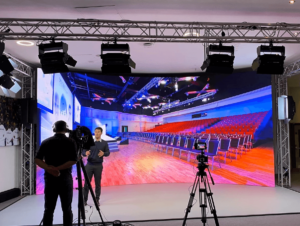 We are excited to open our virtual event studio in collaboration with Twickenham Stadium and Eclipse Global.
Located at the heart of the stadium's corporate events suite we have a fully equipped broadcast standard studio featuring:
7.5m x 3.5m curved LED wall backdrop, enabling an immersive interactive backdrop capable of state of the art virtual production technologies
Full package of professional SGM studio lighting.
Broadcast quality cameras
4K LED wall processing
Disguise d3 Media server, enabling fully synchronised video control.
Exceptional back-end web resources.
Being one of the world's leading stadiums, Twickenham requires flawless streaming for some of the most watched sporting spectaculars. This means we can provide reliable, fast infrastructure for live events, with redundancy, enabling multiple streams of hi definition content.
First class facilities.
We have a luxury green room set amongst the VIP boxes at the stadium, where you can entertain up to 30 guests, in a covid compliant fashion. Various packages are available such as bar services, entertainment  whatever you need to make this a truly memorable experience for your speakers.
Green Room
Free Parking
Stadium Tours
Covid Compliancy
The studio is located in an optimal position within the M25 without being so central that public transport is required, something that we are finding to be a restriction for many potential speakers at virtual events. Risk is a huge factor and should not be underestimated.
First and foremost, this is a stadium. It is spacious and well ventilated. Peace of mind for a studio environment that can often feel cramped and enclosed. Twickenham also has a first class health and safety team, who stay up to date with Covid science and regulations to ensure that the venue not only remains within legal obligations but does everything possible to maintain the literal health and safety of our clients and our staff.
Virtual Events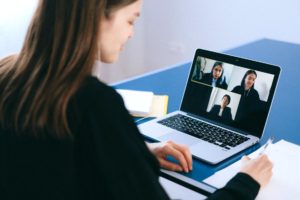 We can offer anything from a managed Zoom call to a full web conference, working with your preferred platform to deliver multiple streams from multiple locations.
Connecting speakers in a distanced world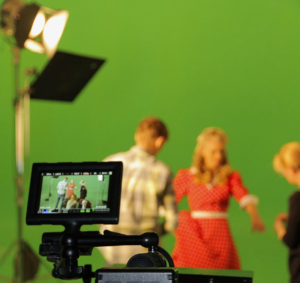 Using green screen technology we have the capability to bring multiple presenters together into one virtual presentation to bridge the void left by a world in lockdown.
Virtual Event Innovation
In-house we have the equipment, and know-how to help you innovate for your event. Want to do something no-one else is doing?? Speak to us, we'd love to work with you to come up with something truly exceptional.